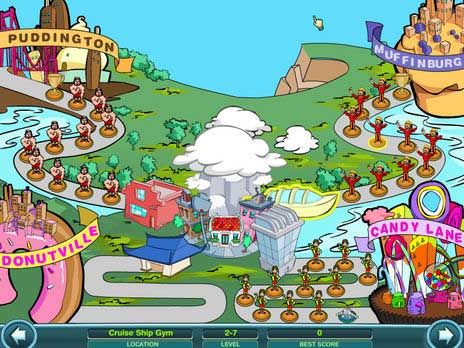 While jogging one day, Jo notices her fellow DinerTown® residents gobbling up double bacon burgers at Flo's Diner just days before the annual tug-of-war competition. Appalled, she urges them to stop or risk losing to the Meatropolis Mashers, but, alas, they ignore her warning and lose the competition. Encouraged by Flo, Jo opens a gym, and vows to get them into shape for the next competition. Help Jo whip DinerTown into shape and lead them to tug-of-war victory at the Mount Olympus Gym!
As the spunky and determined Jo, your challenges in
Fitness Dash
will include freeing up equipment for gym members (such as treadmills, elliptical trainers, exercise bikes, ab crunchers and rowing machines), handing them towels, quenching their thirst and directing them to the showers. In order to make it from one day to the next in this
Time Management
game, you'll also have to earn a minimum amount of cash each day with all this sweat and hopefully not too many tears! Get bonus points for matching the same customer color to the equipment or shower color or performing two tasks at the same time; upgrade gym equipment and avert major catastrophes such as getting rid of the horrifyingly tempting ice cream truck guy!
Download
Fitness Dash
for FREE and enjoy:
3 modes of play: Story Mode, Endless Shift Mode and Endless Tug-of-war.
50 levels + Endless Shift mode and tug-of-war.
Increasing difficulty.
5 Environments.
Some inspiration to take a break from the game, go exercise, and then play some more as a reward!