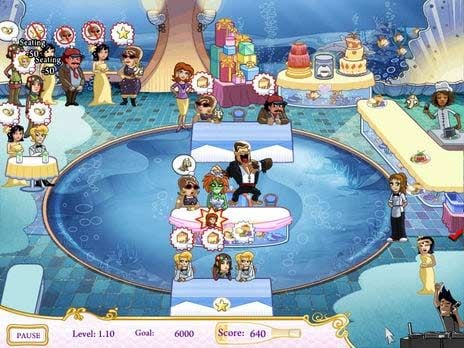 Wedding Dash: Ready, Aim, Love!
is the fun and romantic third installment in the popular
Time Management
Wedding Dash series. The game begins with Quinn planning to marry photographer Joe, even though he doesn't know it yet. Cupid too is in a bit of a pickle because he failed to meet his yearly quota of new couples. To help each other out, Quinn and Cupid make a deal: She'll help marry off his couples if he can get Joe to fall in love and marry her by New Year's Eve. And therein lies your challenge!
You must help Quinn plan a variety of weddings, each with its own venue, couple requirements, themes, menu, and décor - all the while staying within your budget. The happier the couple with your work, the more "love tokens" you will earn from Cupid which you can then spend on upgrades. Once the wedding is planned you must also see it through by seating guests (always a tricky task at weddings), serving their meals and cocktails, and generally keep them happy no matter what their quirks.
With 55 levels you'll come across all manner of wedding types, couples and guests to keep happy. The challenges will also keep you busy, not just clicking your wrist off but also strategizing to get ahead in the game!
Download
Wedding Dash: Ready, Aim, Love!
for FREE and enjoy:
4 reception venues and 55 levels of romantic wedding reception antics.
Interesting assortment of wedding guests, each with distinct traits and quirks.
All new Cupid mini-game to spice things up.
Expanded wedding planning stage with more customization options.
New cocktail tables allow you to keep guests happy and play matchmaker while they wait to be seated.
New wedding disasters to overcome.