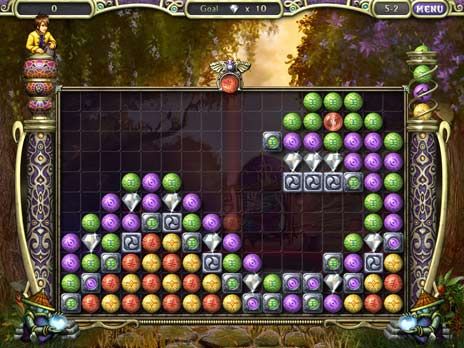 ZenGems
is a deceptively simple yet addictive Asian-themed
Match 3
game with almost 200 levels to explore, all of which challenge the you to think creatively and come up with new strategies to overcome obstacles. The storyline of
ZenGems
revolves around Hoshiko, a young boy who must find the stolen Medallions of Virtue to save his Grandfather's temple. Your mission is to help Hoshiko and his grandfather recover the stolen medallions from the Yama-O-Rakas who have used their magic to hide them in puzzles.
The game takes place on a grid filled with colored balls and gems which you must clear off the grid by breaking them, causing the balls beneath to fall. Quick thinking and clever strategy will get you through the many devious puzzles across 13 mystical worlds. Unlock captivating new worlds while discovering magical power-ups and exciting shoot-and-match gameplay strategies. Master ColorBursts, EnergyBalls, PusherBalls and more in Arcade, Adventure and Strategy Modes.
Download
ZenGems
for FREE and enjoy:
Discover 13 mystical Asian worlds.
Collect amazing power-ups.
195 unique and challenging levels.
3 modes of play: Arcade, Adventure and Survival.
Lovely watercolor-style backgrounds.
Discover the mystery hidden within the ZenGems.