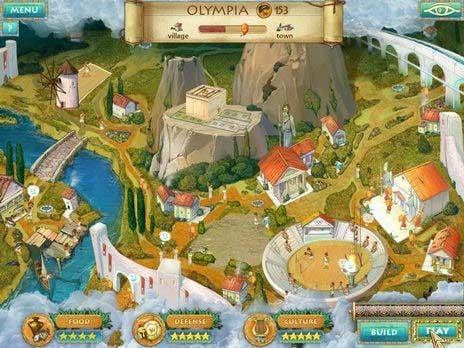 In
Heroes of Hellas 2: Olympia
, you are tasked with collecting resources and building a vast city at the location of an ancient civilization. The game is based on familiar principled of
Match 3
gameplay and as you progress through the various levels, you earn different kinds of resources, which allow you to build the city of Olympia and restore its 3 most important aspects: Food, defense, and culture.
Heroes of Hellas 2: Olympia
challenges you to drag your mouse across chains of identical items to remove obstacles, activate bonus items and collect valuable objects. Between levels, you can play one of 8 mini-games and spend the gold you earn on upgrades for your city!
The game is beautifully rendered with hand-drawn backgrounds, smooth animation and a vibrant soundtrack that's totally conducive to re-building a magnificent city from the ashes of a fallen civilization. Get ready for pure, addictive entertainment!
Download
Heroes of Hellas 2: Olympia
for FREE and enjoy:
Over 90 levels.
Eight mini-games.
Four game modes.
Three difficulty settings.
Eight desktop wallpapers.