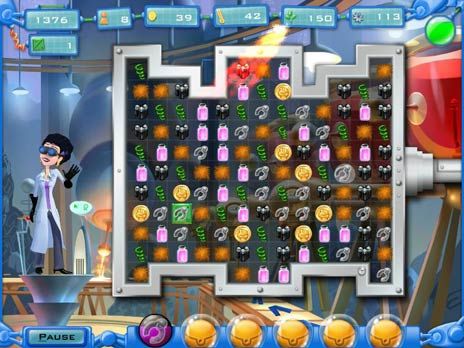 In the comical
Match 3
game
Dr. Despicable's Dastardly Deeds
, your challenge as a budding young scientist is to help the evil doctor - who happens to be your employer - realize his plans to take over the world by building all sorts of crazy inventions. As his newest recruit, you must help carry out Dr. Despicable's long list of dastardly deeds - ranging from shrinking all of the blue jeans in the world to launching the most annoying telemarketing firm ever! Terrifying stuff indeed.
He even gives you special powers to help achieve his dastardly plans as you go through this goofy
Match 3
game, such as "the claw", which lets you remove any tile you want, and later on the ability to slow down time, plus other cool powers that help you along the way. So! Think you have what it takes to invent the sort of twisted contraptions Dr. Despicable is counting on to cause chaos around the world?
Download
Dr. Despicable's Dastardly Deeds
for FREE and enjoy:
Dastardly Deeds done door to door in a whole new level of Match 3 fun.
Gather bizarre requirements to build mind control helmets and laughing lipstick.
Use odd power-ups like Microscope Goggles and the Black-Hole Generator.