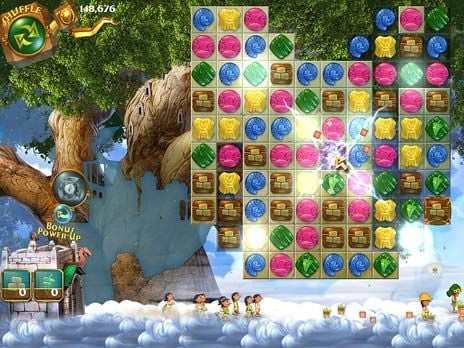 Build the most enchanting sites of legend and mythology in the all-new 7 Wonders - Magical Mystery Tour, a magnificent gem-swapping journey.
Grab your hammer and chisel then set off once again to construct some of the most amazing sites ever imagined. With a team of master builders and artisans at your side, watch as famous fabled locations such as Camelot, El Dorado, Atlantis, Shangri-La, and more come to life before your very eyes.
Swap and slide colorful runes to make matches of three, and then collect the building blocks of these wonderful locations in level after level of challenges. Make bigger matches to unlock useful power-ups, collect special pieces to play enjoyable mini-games, and adorn your magical locations with wonderful items. With each completed wonder, you can also then add to your team of builders to assemble an entire crew of magical Guild Workers. It's an astonishing endeavor that is certain to take you away!
Explore the world and create fabled structures in this splendid Match 3 experience
Build Camelot, El Dorado, Atlantis, Shangri-La, and four other wonders
Unlock useful power-ups and collect special pieces to play enjoyable mini-games
Adorn these magical locations with wonderful items including gold and statues
Add to your team of builders to assemble an entire crew of gifted Guild Workers