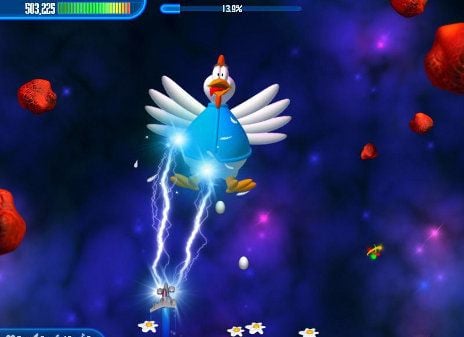 Chickens. For centuries we have oppressed them, grilling, roasting, stewing, and stuffing them in buns. The time has come for us to pay. Intergalactic chickens are invading Earth, seeking revenge for the oppression of their earthly brethren! It's time for you to fight for our ancestral right to omelets. Will you succeed? Will the future of chicken burgers be secure? Or will you end up as part of the menu in a galactic chicken restaurant?
In the hilarious
Arcade game
Chicken Invaders 3: Easter Edition
your mission is to blast off and fight through 120 fun waves of invading chickens (and a few Easter bunnies) and barrages of colorful Easter Eggs in 12 intergalactic star systems. Discover nine awesome weapons such as a spread shot or beam, each upgradeable to 11 levels, and set them to extra crispy when battling gigantic Boss chickens. Collect 30 unique bonuses, 15 shiny medals, and get access to 20 unlockable secrets.