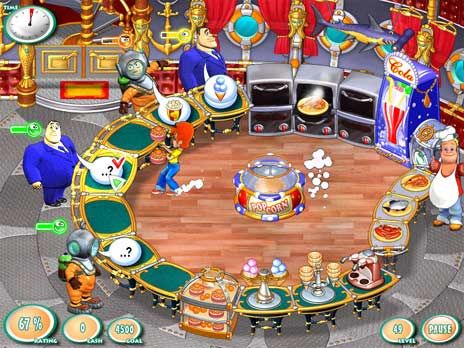 Rebecca and Robert are on a quest to build a successful restaurant franchise. With a family secret recipe they have what it takes to get started, but they´ll need to refurbish a rundown castle, build their skills and provide quick service to attract customers and achieve a reputation that will turn their pizzeria into a
Turbo Pizza
Palace.
In the
Turbo Pizza
Time Management
game, you have full control over the future of Rebecca and Robert´s pizza destiny. Decide when it´s right to purchase new appliances, better menu options, or put resources behind developing Rebecca and Robert´s skills. Save enough money to open a second location in an even MORE unique setting. Meet your customer´s needs and word of mouth will bring the masses. Remember though, different customers have different needs. Hey, no one said becoming a restaurant mogul would be easy.
Explore 50 challenging levels.
Set up shop in 2 outrageous locations.
Compete in local pizza making contests.
Earn money to buy new items.
Beautify your restaurant with fun upgrades.
Add menu options to attract more customers.
Similar Games

Turbo Fiesta

Turbo Subs

Island Tribe 3

Turbo Subs