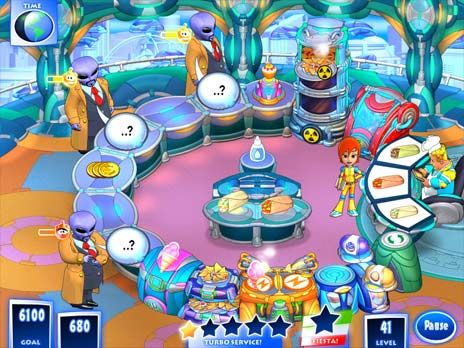 Rebecca and Robert are taking their fast food empire to totally new heights. With personal space travel booming, business is about to skyrocket.
Turbo Fiesta
proves that there´s no place these two can´t go to serve up a tasty treat.
Third in the hugely popular Turbo series,
Turbo Fiesta
is what happens when south of the border cuisine takes on an interplanetary trajectory. An astronomical and gastronomical
Time Management
game adventure,
Turbo Fiesta
is truly out of this world.
Never ones to shy away from unique settings and difficult customers, Rebecca and Robert must now serve patrons in multiple far-out locations filled with space cadets, astronauts and more. And just when business starts to go into orbit, they´ll have to ward off the evil inter-galactic tycoon, Murdoch von Simoleon, who has summoned his twin spies to destroy them. Will Rebecca and Robert succeed in their trek through outer space, or will their plans go supernova?
Download nad Play
Turbo Fiesta
for FREE and enjoy:
Fly through 60 exciting and challenging levels.
Follow Rebecca and Robert´s adventure in hysterical, full color comics.
All new space-age restaurants, upgrades, and customers.
Crank up the action in Turbo Service Mode.
Achieve the Turbo Fiesta atmosphere to guarantee lightening speed service.
Earn brand new power ups to generate customers and more.
Upgrade Rebecca to serve 3 items at once - a Turbo first.
Take a break from the action with 6 puzzling "pipeworks" mini-games.
Rocket into the Turbo groove with 3 new soundtracks.
Similar Games

Turbo Pizza

Turbo Subs

Island Tribe 3

Turbo Subs