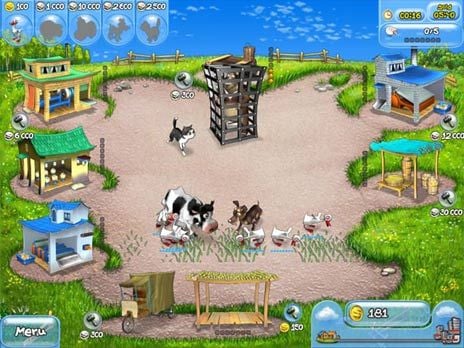 Old MacDonald had a farm, and in
Farm Frenzy
, you get one too! Slip into a pair of overalls and roll up your sleeves - you're about to experience what it's like to run a farm (minus the dirt and odors).
In this first installment of the smash hit
Time Management
series, you'll learn how to run a farm: Tend cows in the fields, collect eggs and make fresh farm produce like baked goods, wool and milk to sell in the market and earn some cash. It may sound easy, but to complete each level in the game you have to accomplish a specific task.
The tasks may start off easy, like collecting a certain amount of eggs, but as you progress through the game the challenges get tougher. For example, to make a certain number of baked goods, you need to first grow grass by clicking on the ground, then buy ducks and feed them, collect their eggs, build an egg solids plant and bakery and only then bake what you need to deliver your quota of goods so that you can send them off to be sold in the market.
The more money you earn, the more animals and upgrades you can purchase for your farm to improve your equipment and make even more produce. With over 45 levels of fast-paced farm action,
Farm Frenzy
will leave you with a whole new appreciation next time you reach inside your refrigerator for an egg or a carton of milk!
Download
Farm Frenzy
for FREE and enjoy:
Over 45 levels to beat.
Five animals to care for.
Nine farm products to sell.
Six buildings to purchase.
Unlimited game time.