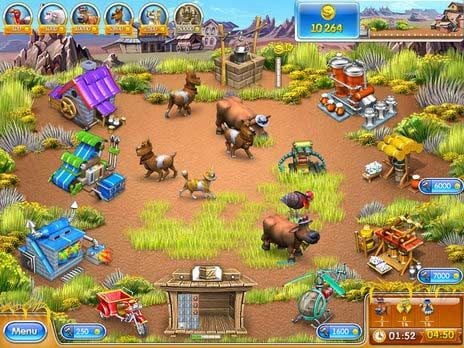 America prides itself on being a global leader when it comes to technology, and it's no different on Scarlett's farm! In the fast-paced
Time Management
game
Farm Frenzy 3: American Pie
, you assume the role of go-getter Scarlett, who in addition to demonstrating farming prowess with the usual suspects of farm animals, also uses Robots to make her farm super productive!
Farm Frenzy 3: American Pie
is addictive from the start. As you advance through 90 levels of frenzied farming, you must buy animals, trap predators and use your egg, milk and wool produce to manufacture farm fresh goods, like powdered eggs, cookies and cakes. The twist in this Farm Frenzy game is that with the help of robots - although more expensive than cows - is the benefit if increased productivity. It's positively revolutionary, All American farming at its frenzied best!
Brilliant animation, easy learning curve, and an all-new Endless Mode in
Farm Frenzy 3: American Pie
guarantee hours of entertainment.
Download
Farm Frenzy 3: American Pie
for FREE and enjoy:
90 all-new levels.
New characters.
New buildings.
Never-before-seen Endless mode.