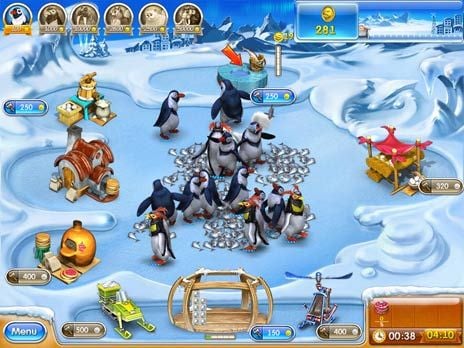 Chill out with the coolest Farm Frenzy adventure yet in
Farm Frenzy 3: Ice Age
! Join Scarlett in this frosty
Time Management
game as she travels to the North Pole to check out a farm she purchased through a newspaper ad. When she arrives, she not only finds the property in a state of disrepair, she also meets two brothers who could use her help making ice cream. While whipping up chilly treats in 90 levels of frosty fun, you'll manufacture new products, breed and care for penguins and other arctic animals and enjoy a parade of visual gags as the animals waddle around the screen eating fish and amusing themselves.
You'll have to watch out for Polar bears who randomly attack and steal your livestock, but you can capture them with rapid mouse clicks and then sell them for a profit. Other surprises in the game include a jolly guest (not difficult to guess who given the North Pole setting!) and a cool effect after you pause your game and leave it running for a while!
Download
Farm Frenzy 3: Ice Age
for FREE and enjoy:
90 all-new levels.
12 new products.
22 hilarious visual gags.
All-new storyline.
A special surprise guest.