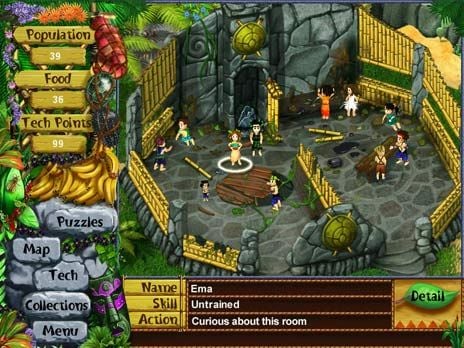 Virtual Villagers 3 - The Secret City
is real-time simulation
Time Management
game and the sequel to the previous Virtual Villagers hit games: A New Home and The Lost Children.
The game begins as a small group of villagers find themselves on the northern shore of Isola after a terrible storm, where they discover the remnants of a Secret City. Your little islanders are keen to explore new lands for their growing population, both to populate and to use as new sources of nourishment.
Your challenge in
Virtual Villagers 3 - The Secret City
is to help your villagers explore this amazing new land and uncover its secrets, and of course to survive once again in an unfamiliar and sometimes dangerous place. They will need to build new homes, find and prepare food, raise their children, stay safe and more - all with your guidance.
And as for the Secret City: Who lived here before? Where have they gone? Can you discover the secret of Isola?
Download
Virtual Villagers 3 - The Secret City
now for FREE and enjoy:
Real-time weather: Clouds, fog and sudden downpours.
Real-time gameplay: New surprises every time you turn the game on.
Investigate and rebuild the remains of a ruined city.
Help your villagers make a variety of unique potions from hidden herbs, many with unpredictable effects.
Raise children who resemble their parents.
Solve lots of puzzles along the way!