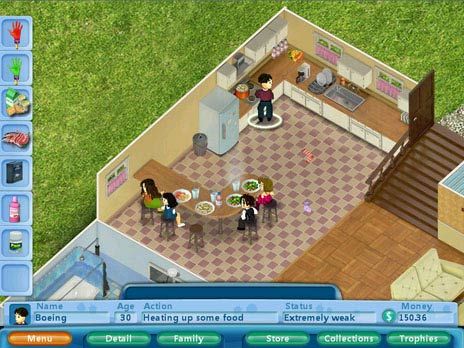 If you have always wanted your own little family without having to provide for them or clean up after them, this is your chance!
Virtual Families
is a simulation
Time Management
game that allows you to 'adopt' a character. The problem is, who should you pick? Perhaps Inky the Novice Film Processor who doesn't really want kids and earns quite a nice salary? Or Soonette, a Beginner Art Critic who likes work and is scared of heights? The choice is yours so choose wisely.
Once you have decide though, your little character is all yours! They get to move into your house and then the aim of the game is to keep it healthy, happy and entertained. Obviously some education is necessary, like teaching them basic housekeeping skills, so you better start cracking. And, should you do well in the game and collect a decent amount of points you can expand your family and also upgrade their living conditions.
Download
Virtual Families
for FREE and enjoy:
Choose unique and fascinating adoptees from 1000s of combinations.
Fully trainable people: shape/adapt their personalities through praise and scolding.
Dynamic illness system. Play Doctor!
Over 100 in-game trophies.
Hidden puzzles to discover around the house.
Email ´events´ and other random, unpredictable occurrences.
Weather, day/night cycles (synchronized to the player's system clock, so it is nighttime in the game when it is nighttime where you are).