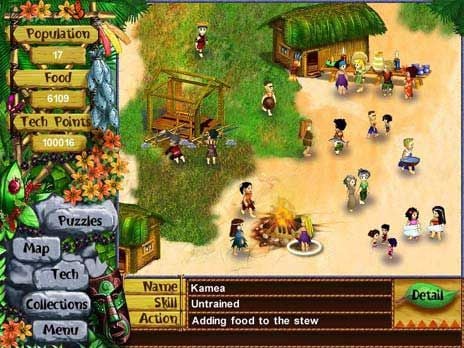 Virtual Villagers 2: The Lost Children
is the exciting sequel to
Virtual Villagers: A New Home
. This engaging and enjoyable simulation game continues the epic story of the castaways of Isola.
In
Virtual Villagers 2
, two curious villagers find themselves on the west side of the Island after slipping and falling down a waterfall while exploring a mysterious cave. They are surprised to find a group of dirty, scared and hungry-looking children who clearly need help to survive.
In
Virtual Villagers 2
, your challenge is to teach the villagers survival skills such as farming, building, healing and parenting and help them solve all the 16 puzzles of Isola Island. Guide your villagers as they meet new challenges and face unpredictable Island Events. As with the other games in the Virtual Villagers series, gameplay is as easy as dragging-and-dropping the villagers to various areas to perform a task. It can take a few attempts for the villagers to finally succeed, but once they learn a skill, they'll be able to perform the task on their own.
One of the most unique and intriguing things about
Virtual Villagers 2: The Lost Children
is that the villagers live in real time! At any stage of the game you can leave them alone and come back later in the day, or even every other day, to see how they're doing. It's so entertaining and rewarding that you may well find yourself addicted to virtual life!
Download
Virtual Villagers 2: The Lost Children
now for FREE and enjoy:
All new puzzles, technologies, and island events.
Watch your villagers go from toddlers, to adults, to grey-haired elders.
Raise children who resemble their parents.
Unique and unpredictable 'Island Events' to keep you on your toes.
Dozens of unique collectibles for children to retrieve.
Make a variety of unique stews from hidden herbs, many with strange and unpredictable effects.
Real Time gameplay with new surprises every time you return to the game!