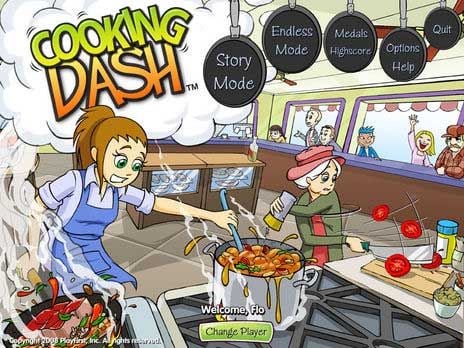 When Cookie the Chef leaves Flo's Diner to pursue a career in reality TV, DinerTown is suddenly burdened with a shortage of chefs since each week Cookie invites a different chef to guest star on his cooking show. With no one to run her own diner's kitchen, Flo and Grandma decide to roll up their sleeves and have stab at the cooking themselves.
Taking charge of Flo and Grandma's characters in
Cooking Dash
, the original installment in the smash hit
Time Management
series, you not only have to seat and serve customers, but you actually get to cook their food too. Whatever dishes the customers think up - whether it's a simple smoothie or spaghetti and meatballs - you have to prepare and serve it as quickly as possible.
During the game, Flo and Grandma also have to hold the fort in the kitchens of other restaurants in town while their chefs are guest starring on Cookie's show. That means that you get to experience cooking other cuisines too, like Italian pizza and Japanese sushi. In between levels, you can also buy upgrades for each restaurant, whether it's a new piece of equipment help make things more efficient, or a decorative element to improve the restaurant's appearance.
Cooking Dash
is full of fast-paced restaurant action with a happy ending (although it will take you a deliciously long time to get there), when Cookie finally asks Flo to guest star on his show where they knock out a performance to remember!
Download
Cooking Dash
for FREE and enjoy:
Over 50 levels of game play.
Master the art of perfectly prepared meals in five different restaurants.
Each new restaurant features a different variety of food to delight customers.
3D rendered characters add dimension to the animation.
The game features decorative upgrades, functional upgrades, and upgrades awarded for successful completion of the levels.