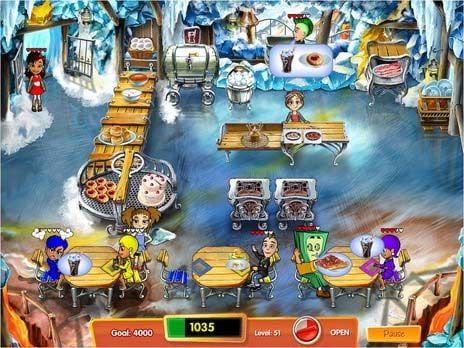 Prepare for a stroll down memory lane with
Cooking Dash - Thrills and Spills
. Meet Flo and the rest of the DinerToons as youthful DinerTeens, working their first summer job at Mr. Big's theme park restaurants. Can you keep Flo and her friends preppin', grillin' and sizzlin'? Find out in this thrilling
Time Management
game where you'll serve sit-down customers, bag up food for Dash-Thru window diners, and revamp every restaurant in the park.
Download
Cooking Dash - Thrills and Spills
for FREE and enjoy:
50 fast-paced levels of play.
Fun themed venues like the Log Jam, Spooky Shack, and Deep Dive.
New Dash-Thru window service to keep you on your toes.
Nostalgic DinerTeen flashbacks + 9 customer personality types.
Similar Games

Cooking Dash

Cooking Dash: DinerTown Studios

Island Tribe 3

Turbo Subs