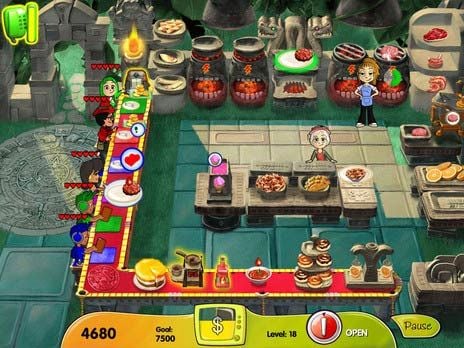 In
Cooking Dash - DinerTown Studios
, another adventure in the highly successful
Time Management
series, Flo has been invited by her roommate Gilda to the set of her new show to start her very own diner. Flo doesn't hesitate and immediately jumps at the opportunity, taking Grandma Florence and Cookie with her!
In this extremely addictive
Time Management
game Flo's job is to seat and serve the likes of actresses, agents and production assistants, while trying to make as much money as possible. Featuring 50 levels across five different film sets, including Western and Royal Court Themes, the game gets very hectic early on and you literally need to be quick on your feet, not to mention patient in dealing with irritated Directors and demanding Starlets.
Adding bright and colorful graphics to the gameplay, this really is a fun and fast-paced game that will keep you entertained for hours!
Download
Cooking Dash - DinerTown Studios
for FREE and enjoy:
3 new celebrity customers with special power-ups and unique features that help you score extra points.
Over 25 decoration and functional upgrades to purchase.
5 new on-set restaurants, each with an original menu that now includes 2 and 3-course meals.
10 medals to earn throughout the game.
More than 50 television-themed levels of gameplay.